Award winning construction consultancy acquired by Bellrock Group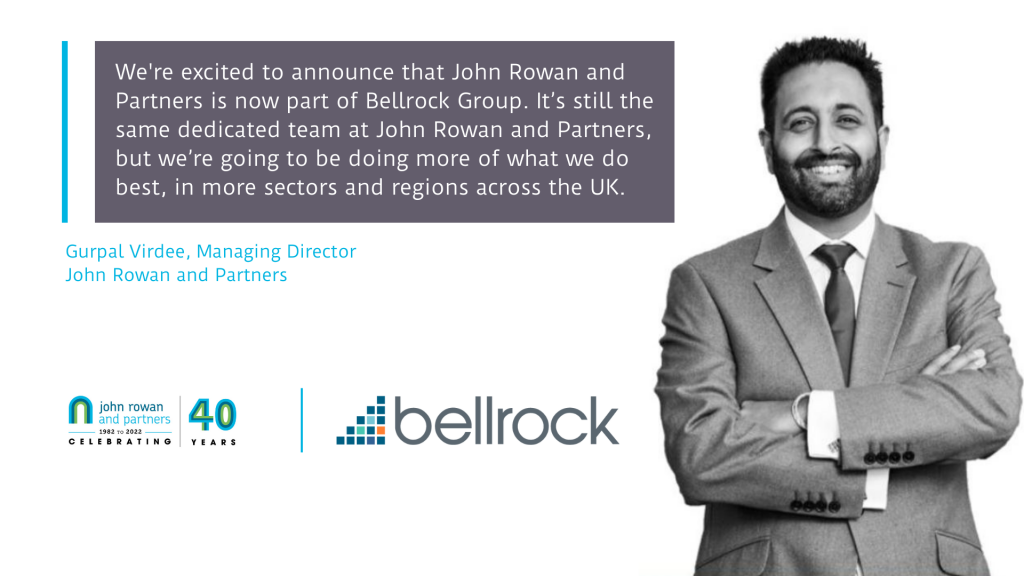 Construction consultancy, John Rowan and Partners is excited to announce the start of a brand-new chapter in its business journey.
The company, which has previously won the Building Magazine award for Construction Consultancy of the year (under 100 people) is now part of Bellrock Group, a leading provider of specialist risk focused workplace & property management solutions in the UK, with an annual turnover of £170 million.
"Joining Bellrock family makes great business sense for us," said John Rowan and Partners Chairman, Mash Halai. "To continue to grow, we need to be able to offer a wider range of services in more areas around the country, whilst also having some synergies across both organisations.
"The move means we now have the contacts and financial clout to do that, whilst keeping everything about our business that makes us successful. We'll be keeping our name and our branding and will continue to deliver the high standards of service our clients have come to expect."
John Rowan and Partners will now sit within Bellrock Group's Technical & Real Estate Consultancy Services division under the leadership of the divisions' Managing Director, Neil Triggs.
"The acquisition of John Rowan and Partners is a milestone event in the growth of Bellrock Group" commented Neil. "John Rowan and Partners will provide a step change to our scale, capability, and service offer, and will play a key part in the growth of our Technical & Real Estate Division. Bringing four decades of experience in delivering award winning consultancy services, the company perfectly complements the other parts of our division and will support our goal to achieve consultancy revenues of £50 million by 2025."
As part of Bellrock Group, John Rowan and Partners will be able to offer a range of new in-house services, including Fire Safety, further Compliance Services, Energy Consulting and Carbon Net Zero, Asset Management, MEP Consultancy, Facilities Management and their solely owned Integrated Workplace Management System (IWMS) and Computer-Aided Facilities Management (CAFM) estates management software platform, Concerto.
"We're looking forward to being able to offer clients a broader service, and expertise in additional areas which our clients have been asking for," added Mash. "But customers can rest assured that nothing's changing about the way we operate, or the relationships we pride ourselves on building.
Essentially, it's the same great people, under the same great name delivering the same great work."