Equity Partner Tim Young Bids Farewell To John Rowan And Partners After 33 Years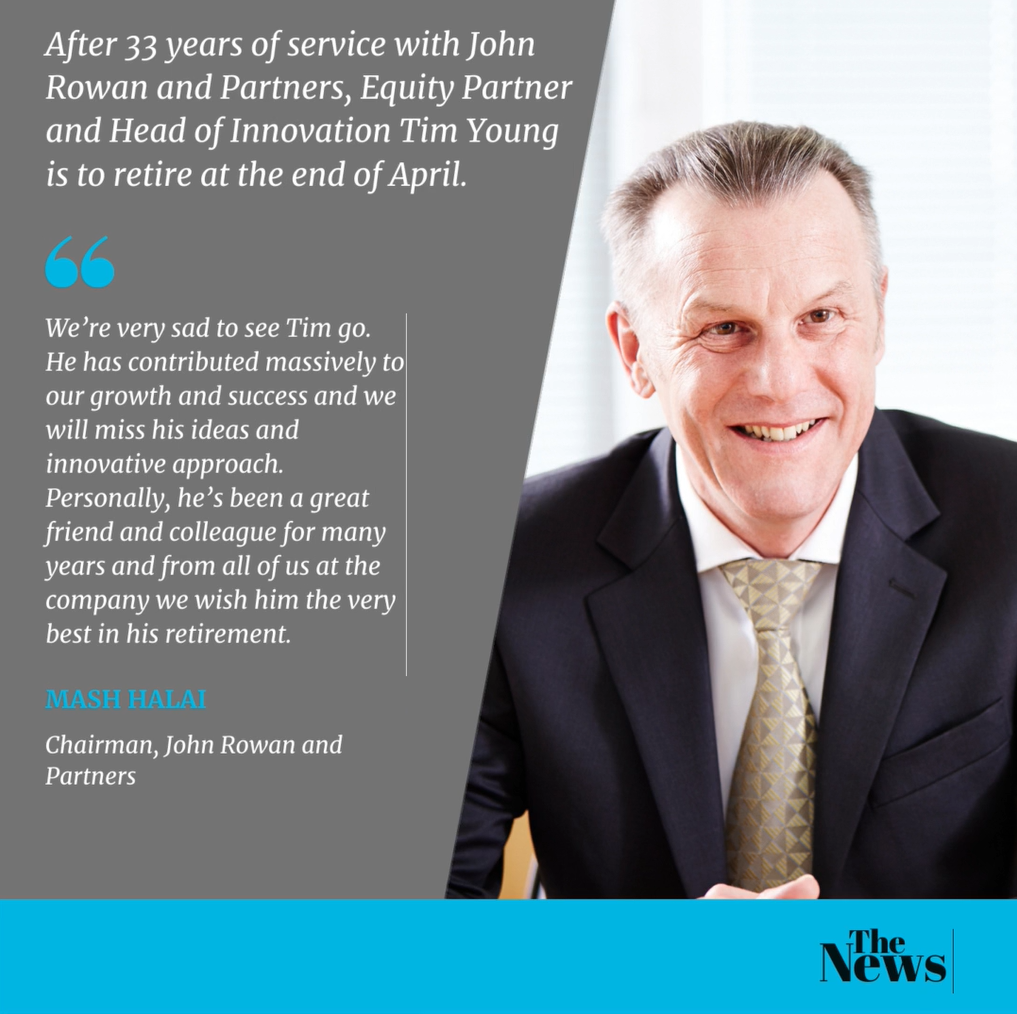 After 33 years of service with John Rowan and Partners, Equity Partner and Head of Innovation Tim Young is to retire at the end of April.
Tim joined the multi-disciplinary property and construction consultancy company in Ealing, after graduating from Bristol Polytechnic with a degree in Quantity Surveying. It was a job he almost missed out on – as he had already accepted a role with another company and was all set to join them until he was persuaded to meet some of the John Rowan and Partners team over lunch.
"They offered me a job as a QS and I decided to accept," he recalls. "I had to resign from my first job before ever setting foot across the threshold!"
Tim has held a number of roles in the company during his three-plus decades, he has been an Equity Partner for 28 years and most notably as chairman for five years. More recently, Tim has been Head of Innovation.
As you would expect over such a long period, Tim has seen many changes in the property and construction world, from an increase in digitisation to a proliferation of housing development issues that he feels are getting in the way of supplying new homes to those that need them.
He's also a big advocate for unlocking the untapped potential of hidden homes – that is, any opportunity to build additional homes on sites or buildings already owned by councils or Housing Associations.
"There's certainly a missed opportunity in London to deliver more housing by identifying the hidden plots scattered across the boroughs," he says.
"If we could move away from the focus on developments of 30 dwellings upwards and accept that smaller projects, even of one house here, a couple there, we could potentially boost the housing stock by 5–10%."
However, he's hugely proud of the many successful projects John Rowan and Partners has delivered, perhaps most notably the East Village. Formerly the site of 2012 Olympics Athletes Village, this 27 acre site was transformed into 2,818 homes.
John Rowan and Partners, led by Tim, provided project management and quantity surveying services, playing a key role in delivering a lasting legacy from the Olympic site.
"We're very sad to see Tim go," says John Rowan and Partners' Chairman, Mash Halai. "He has contributed massively to our growth and success and we will miss his ideas and innovative approach.
"Personally, he's been a great friend and colleague for many years and from all of us at the company we wish him the very best in his retirement."
Tim plans to keep himself busy in retirement – he'll finally be able to turn his attention to his many own ideas, of which there are a few! Including building oversized green oak deck chairs and working on his own centuries' old property, which he says, is in some need of a little TLC.