John Rowan and Partners, Managing Partner, Gurpal Virdee talks to Insight about what it means for the company to turn forty…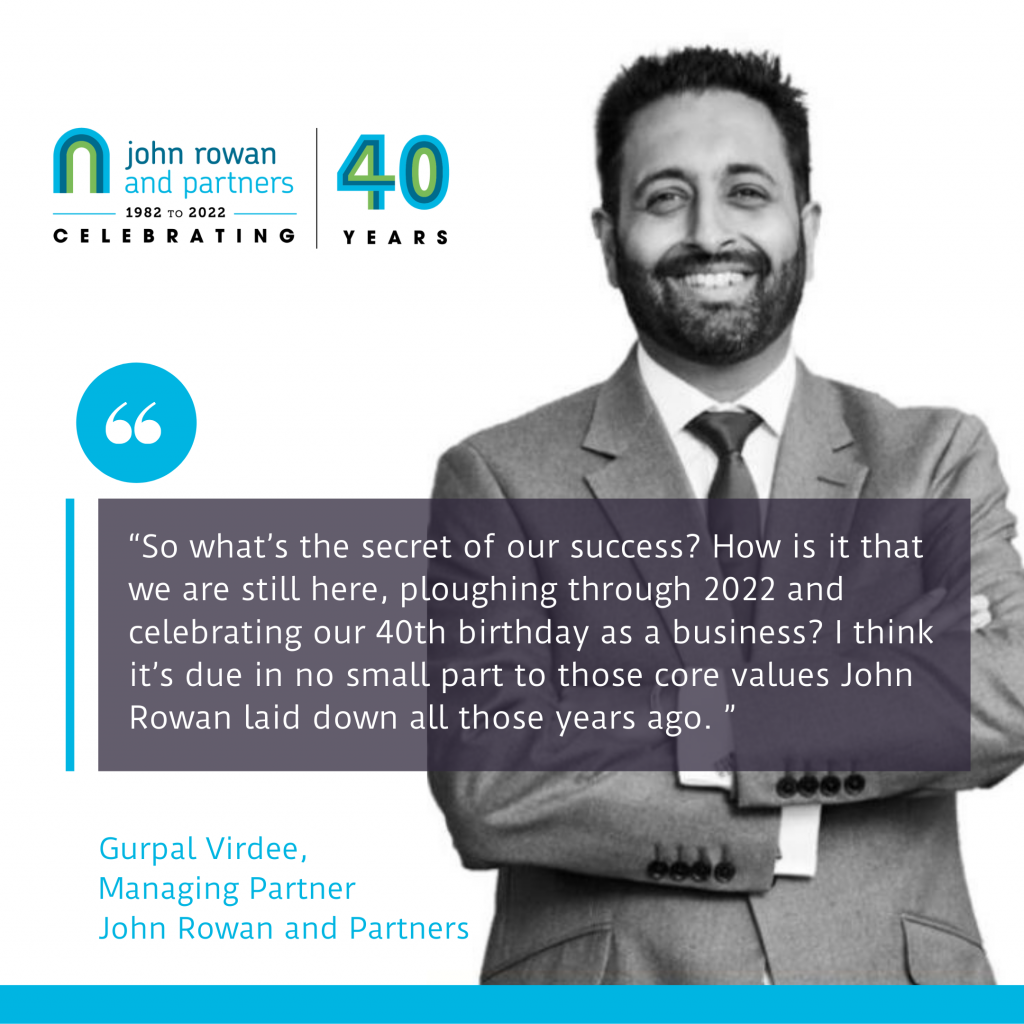 I wonder, when John Rowan first set up his business in his front room, if he ever thought that 40 years on, it would still be thriving and evolving?
I'm sure we all like to think that our business ideas are great and will have longevity, but the truth is, the path to continued success is strewn with challenges and hurdles that must be dealt with and overcome. Whether it's a recession, a sector downturn, Brexit or a pandemic, you have to find a way through, and not everyone does.
So, what's the secret of our success? How is it that we are still here, ploughing through 2022 and celebrating our 40th birthday as a business? I think it's due in no small part to those core values John laid down all those years ago. John believed that looking after your people was central to creating and building a business, that enjoying your work and having fun mattered. That helping your people grow both professionally and as individuals was critical.
Of course, profit is important too – without it, you have no business! But John believed, as do we still today, that if you have happy, committed employees who enjoy what they do, who want to learn and grow, you deliver quality work. This in turn brings happy clients who come back to you with repeat business, and who will not hesitate to recommend you to others.
I also believe our longevity is due to our willingness as a business to adapt to the changing world in which we find ourselves, being flexible, and open to trying new things, new markets. When we first started out, our sights were firmly set on the commercial sector, and we were delighted to have clients like Dixons, The Link (remember them?) and PC World. Today, our focus is split across different sectors such as housing, public sector and hospitality and leisure. Who knows where we'd be now if we'd insisted on being active in just one area?
We've also stretched ourselves, setting our sights high. We've won high-profile projects for large clients, although it's not always easy for smaller companies like ours to bid successfully against the bigger outfits. We've proved we're very able to take on and deliver projects at scale.
I hope John would be proud not only of what he started, but also of what we've achieved today, building on the foundations he laid all those decades ago.
Our recent customer survey revealed that 94% of our clients wouldn't hesitate to recommend us to others, with respondents frequently describing us a friendly, committed, dependable team. We enjoy lots of repeat business from customers with whom we've built strong, honest relationships with over many years.
We hope that's proof we're doing something right!
What next? We need to continue to hold on to those core values, while continuing to be adaptable, flexible and bringing on the next generation. We need to find ways to navigate our way through the current post-Brexit waters, the impact of Covid and the current economic backdrop. We have a great team of people, so we're confident we're well placed to make it through.
Here's to the next 40 years!