Graduate and undergraduate opportunities
As a Sunday Times Top 100 Employer, a Building Good Employer and shortlisted for the National Business awards 'Employer of the year', John Rowan and Partners is the place to work to develop your career, be valued and enjoy yourself while you're doing it! As a unique place to work, John Rowan and Partners has a proven track record of progressing careers through our graduate development programme, with our fantastic APC support programme achieving high pass rates since 2015!
At John Rowan and Partners everyone's contribution is valued. The on-going contact with our Equity Partners and Partners is a great asset to our placements and Graduate Development Programme. Unlike many other organisations, we firmly believe in promoting our employees when they demonstrate the skills, experience and behaviours we value. So, in line with this, our Graduate Development Programme allows for promotion whenever you are ready. So, it's up to you.
We recruit graduates in a range of disciplines, including Building Surveying, Quantity Surveying and Project Management. Recent graduates and placement students have worked on diverse projects, such as the Green Man Lane housing regeneration, Brown's Hotel in Mayfair, London and Birmingham Hilton Metropole Hotels and secondments to our key clients.
We offer bespoke programmes, tailored to the needs of our graduates and placement students. All of whom receive:
A full company induction
A mentor and in-house support from our dedicated team of APC counsellors and supervisors
A planned and structured programme ensures that you will be rotated to different roles and teams, gaining a breadth of experience
Formal and on-the-job training are combined to ensure that commercial and business skills are developed alongside technical and industry knowledge
A competitive salary, good working hours, excellent holidays and even an exercise subsidy to keep you fit and healthy!
Graduate Development Programme
Our Graduate Development Programme is geared towards both degree and masters level graduates and is a permanent full-time position. We are keen for you to become chartered as soon as you are ready. Our APC club allocates each candidate an assessor and supervisor, they undertake monthly meetings with both, in order to track progress and ensure they are provided with all the help and support they need. In addition to this, bespoke in-house training sessions are run monthly by both internal and external experts in the field. The company funds all the required training, travel, resources and a weeks' dedicated study leave for every individual, empowering them to achieve their APC within two years.
If you are graduating from university this year and wish to apply for our Graduate Development Programme, you can either register your interest with one of our staff members on the day at one of the construction careers fairs; and / or by completing the application form which can be found here:
Deadline to apply is 20th November 2019.
Our 2019 Graduate Assessment Day will take place in December and all job offers will be made prior to Christmas, allowing you to focus purely on your studies for the last semester.
We at John Rowan and Partners wish you the best of luck with your studies.
Sandwich Year and Summer Placements
We offer keen undergraduate and postgraduate students the chance to develop through one of our other programmes. We offer paid summer and sandwich year placements allowing you to gain valuable 'real world' experience in the workplace, whilst also undertaking significant training and having the opportunity to join our APC Club and get ahead of the game.
To apply for our Sandwich Placement/Summer Internship, click here:
Deadline to apply is 20th December 2019.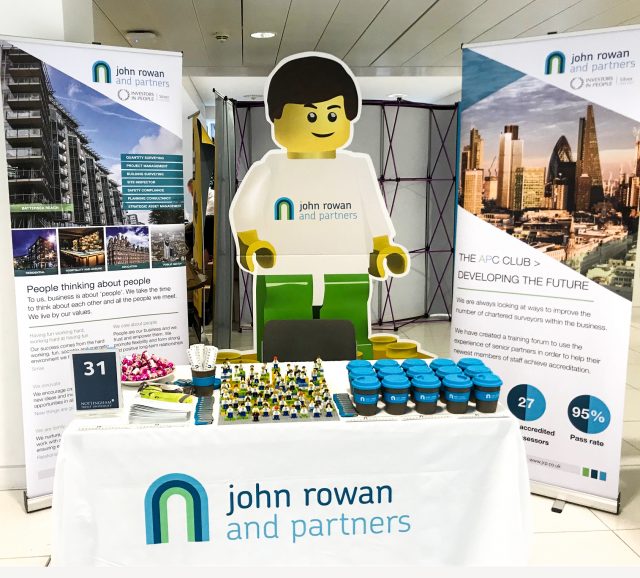 Some of our current graduates
Asmita Kerai – Graduate Quantity Surveyor
Caedmon Bradley – Graduate Building Surveyor
Niral Limbani – Graduate Quantity Surveyor
Rajvina Nijjer – Graduate Building Surveyor
Raphael Theoharous – Graduate Quantity Surveyor
Robert Worster – Graduate Building Surveyor
Rosie Cornforth – Graduate Building Surveyor
Scott Stronach  – Graduate Quantity Surveyor
William Thomas – Graduate Building Surveyor
Longer serving former graduates
Mash Halai – Equity Partner and Chairman – Quantity Surveyor (1997)
Paul O'Connor – Partner – Quantity Surveyor (1999)
Sean Good – Project Manager (2012)
Dominic Cherry – Associate Partner, Senior Employer's Agent / Quantity Surveyor (2012)
Stephen Hart – Senior Building Surveyor (2014)
James Roche – Senior Building Surveyor (2015)
Construction Careers Fairs 2019
We will be attending the following university careers fairs in 2019:
Monday 14th October 2019
Oxford Brookes Real Estate, Planning and Construction Fair

Thursday 24th October 2019
Nottingham Trent University Design and Construction Fair
Tuesday 12th November 2019
Reading University Built Environment Fair
We look forward to having a chat with you about what it's really like to work at John Rowan and Partners and the opportunities we can offer you.